"Love Chain" is a song by Hong Kong recording artist Stephanie Ho. It was released on January 22, 2016.
Lyrics
男生的品味 膚淺得要死
如果公主病 美貌也會博得 最歡喜
憑肉眼 作標記 無耐性去知道 心底希冀
誰又信 有公理 如沒有我的矮小怎墊高 她的美

人生難得一知己 有著靈犀無須捉摸心理
遺失人氣 尋到自己 平凡中 有福氣
人生難得找到你 繼續純真無須辛苦演戲
難解難分 緣消緣起 藏玄機
贏得到偏想輸給你

誰不想驕傲 高高天際飛
如不支倒地 當天摔低那點 再企得起
男共女 我與你 情和愛 最銘記 卻要賭氣
行盡了 數百里 無名次 有勇氣 未見得 空歡喜

人生難得一知己 有著靈犀無須捉摸心理
遺失人氣 尋到自己 平凡中 有福氣
人生難得找到你 繼續純真無須辛苦演戲
難解難分 緣消緣起 藏玄機
贏得到偏想輸給你

迴腸盪氣將結尾 從頭於原點 尋找你
人生難得一知己 有著靈犀無須捉摸心理
無驚無險 做好自己 平凡中 有福氣
人生難得找到你 繼續純真無須辛苦演戲
無聲無息 提升自己 尋玄機
從低處可以高攀你
Music Video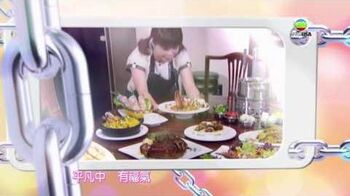 Premiere date: January 22, 2016
Director(s): N/A
Stylist(s): N/A
Choreographer: N/A
Photographer(s):
N/A
Ad blocker interference detected!
Wikia is a free-to-use site that makes money from advertising. We have a modified experience for viewers using ad blockers

Wikia is not accessible if you've made further modifications. Remove the custom ad blocker rule(s) and the page will load as expected.